What customers are saying:
"We just want to thank you for the excellent service your delivery company has been providing us over the years. We have used other companies in the past, and their drivers have created problems with or customers. Customer service is important it every aspect of our business, including delivery. Your company has provided the
kind of customer service our customers require. Thank you."

Dennis
PRESSTEK PRINTING, LLC

About Us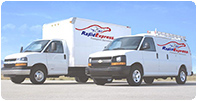 The Rapid Express executive management team has more than 60 years of success in both management of transport services in Rochester and senior management in Fortune 100 companies.
Through our corporate accounts program we can also work together with larger companies to understand business challenges to design and provide custom business-to-business delivery solutions to help businesses succeed and grow.
READ more